Hello friends. I truly hope you all had a nice Valentine's Day. Whether you celebrate or not I hope it was just a nice day. My hubby and I don't really "celebrate" Valentine's Day but he did do the dishes and clean the kitchen so seriously it was the best gift EVER!! He is starting to figure out it is the simple things in life that make me happy!! (It only took 10 years ) LOL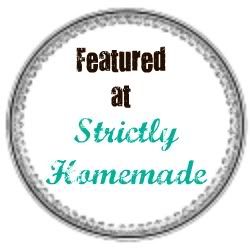 I can't wait to show you this week's features. These are features from Strictly Homemade Tuesday 2/7/12. Sorry, that week the buttons were so small that week. My bad!
Although the buttons were small the ideas were awesome. Here are two unique and fantastic ideas that ANYONE can make.
First, from the Crafty Scientist she made this beautiful wreath that is interchangeable. She can pull off the hearts and make this wreath for all seasons. Brilliant idea, less storage!
Then I Can Find the Time (love her blog name) made these beautiful Fabric Silhouettes for her baby's nursery. She has a fabulous tutorial and it looks super easy with a BIG impact!
Thank you so much ladies for linking up. Not only are you featured here but I "PIN" your posts onto Pintrest so millions of others can see!!
Thank you everyone who links up week after week. I just LOVE looking at all your ideas.