First, I want to say thank you to everyone who emailed me or sent me a note hoping everything is okay in my household. I am happy to say we are all healthy! My son took a hard fall last week and got a concussion. We thought we were on the rebound until 3 days later he started throwing up again and wanting to sleep. Scared the life out of all of us. After a thorough visit to the ER our prayers were answered and he seems to be okay!!
Now, I can focus on some fun stuff now that things have settled here a little…
Today is a two for the price of one deal!! I have some awesome features from Jan 24th's Strictly Homemade Tuesday's Linky Party and some pictures I received from people who have created clothes for 18" dolls using my patterns.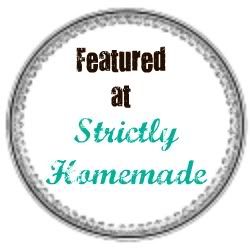 First the Fabulous Features. I always have such a hard time choosing because you are all so talented. I decided to go with a theme. FELT. Felt is an absolutely amazing material. It is washable, withholds to heat, and it does not fray.
Jennifer from Laughter and Grace created a wonderful tutorial on how to make felt flowers. YOU DO NOT HAVE TO KNOW HOW TO SEW!!! No excuses not to make these!!!
Next, Esther from My Life in Namibia made this gorgeous necklace and bracelet. I WANT ONE!!! Wouldn't that look beautiful with a black scoop neck shirt!!
Thank you Jennifer and Ester. Please feel free to grab a feature button!! ALSO, as a bonus for linking up to Strictly Homemade Tuesday I am going to start "PINNING" my features on Pintrest to make sure everyone knows how awesome you are!!
Next, I have to share with you two dress pictures I received from Carol. She has made several dresses for her granddaughter and I love how she has made the pattern her own. Thank you Carol for sharing with us!! If you would like to make your daughter/granddaughter/or friend a 18" doll clothes, check out my 18" Doll Patterns.
If you have made anything from my patterns send me a picture and I will be sure to feature it here on the following Thursday!!!