I thought I would take a moment to reflect on this week for my little ol' blog…hope you will stick around and read!!
First, I want to thank all those who participated in this weeks Strictly Homemade Tuesday where we show off all of our homemade creations. What a fabulous show of talent!! If you were not able to join me this week, I do hope you will next Tuesday!!
2. A few weeks back I received my prize from Kelcey @ Tattered and Inked and I absolutely LOVE IT!! I couldn't decide where to put it so for now it resides in my guest bathroom. Thank you so much Kelcey.
I know it is a lot of blue going on but in a solid black and white bathroom it could stand a little bit of color!
3. I got featured this week over at Occasionally Crafty for my Upcycled Men's T-shirt.
Thanks again Valerie!
4. I received an award this week from Kim @ Little Rays of Sunshine. I wish I had the time to pass this forward but as it is I am typing this post one handed feeding my baby (TMI??, as a mom of 3 you have to learn to multi-task!!!), I am so honored that she would pass this on to me!!! Thank you, Kim!!
5. I am excited to announce that next week I will be participating in a blog swap with Janet @ I heart my glue gun! Very excited! I hope you will follow me over there!! I can't wait to meet the other bloggers she has lined up!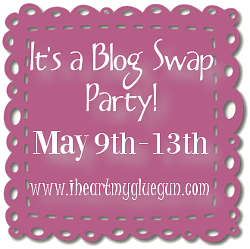 6. I wish a Happy Mother's Day to all the mothers out there. Enjoy your day!! I know I will enjoy my day with my 3 favorite little people!! I am so blessed to be their mom!!!
What a fabulous week!!!! Hope your week was just as wonderful!!
Maridith