I am going to make this short and sweet!!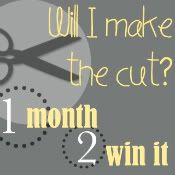 First, I am over-the-moon excited to tell you that I am a contestant at One Month to Win it!! It is kinda like American Idol except on a much smaller scale. There are 12 contestants and we are each given a craft challenge. People vote for the project they like best and then 9 contestants move onto the next week. Then 6, then 3, then finally the winner. I can't tell you which project is mine but I do hope you will go over there and vote!!! I will let you know when!! Wish me luck!!
Ending tonight... I am hosting a giveaway at Craft-o-Matic for a Chevron Pouch. Isn't it cute?
Lastly, have a wonderful 3 day weekend as we remember those who fought and died for our freedom. I am proud to be an American and honor those from the past and the present who protect us!!