This tutorial I shared over at Babes and Sage a few weeks ago. Now I am sharing it here.
Today's Post is a Gentle Sentimenal Reminder!
When your kids were little there was nothing cuter and precios, then when they get big you often find yourself reminding them constantly...wash your hands!! So today, I am combining the two in what I like to call...
"A Gentle, Sentimental Reminder"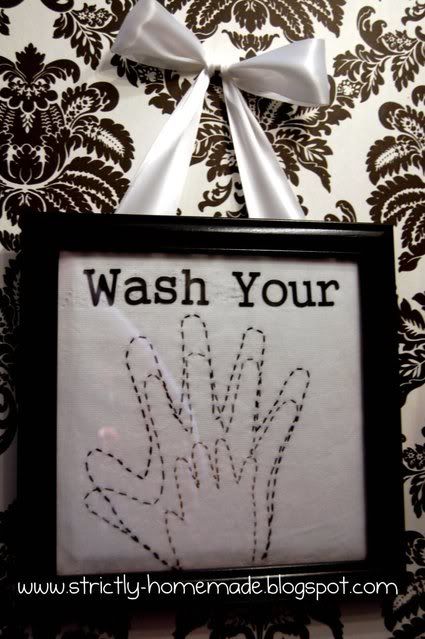 Supplies Needed: Cotton Material (scrap piece), embroidery thread (different colors if more than one child), needle, hoop, pencil, scissors, letter cut-outs

First step (not shown) Trace your children's hands on paper. Cut out.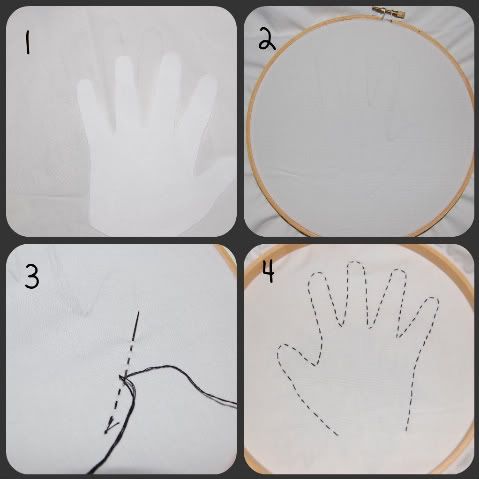 1. On the wrong side of the material trace your cut out hand with a pencil.
2. Insert material in hoop and tighten
3. Of the 6 strands of the embroidery thread only use two of them. Sew with a simple straight stitch around the pencil line. Make sure your knot is on the pencil side. The non-pencil side is what will be seen when finished
4. Shown is the finished side.

Repeat 1,2 & 3 according to how many children you have. My children are 6 years old, 3 years old and 5 months so I knew their hands would fit snuggly inside one another.

5. With cut out letters ( I used my silhouette) glue on "Wash your"
6. Wrap material around a frames insert and tape on the back.
7. Assemble frame. I added a satin ribbon to the top.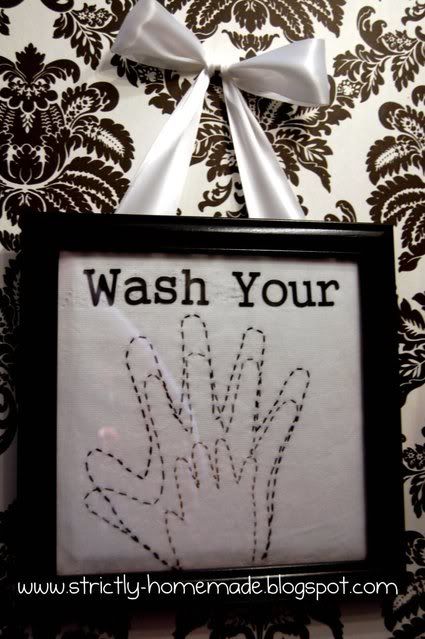 You are done!! I love that this will forever be in my guest bathroom and it will capture a moment in time with my children that will soon be priceless and in the mean time remind them to WASH YOUR HANDS!!