As promised here is the tutorial for the upcycled men's t-shirt pillow!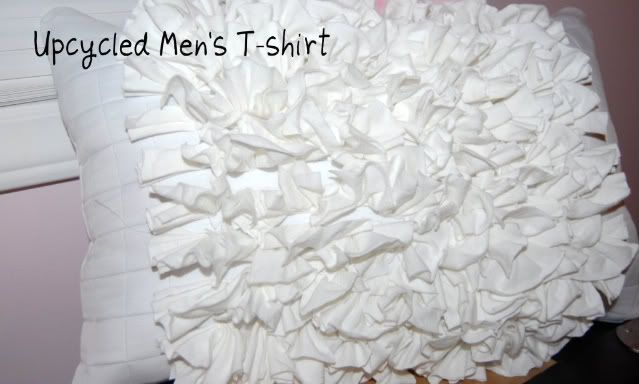 First, grab some of your hubby's undershirts. These I bought him were too small and were going in the rag pile.


Supplies Needed: 2 men's t-shirts, scissors, 2- 12X18" material for pillow , stuffing.

1. Cut your t-shirt into 3x3 pieces.

2. Accumulate a stack of approximately 130-3x3s

3. Fold like a fan and pinch together in the center.

4. Line up 1'" apart length wise and 1" apart width. down the center of the pillow front and stitch making a continuous stitch down the center. ( I cheated since I had the quilted material and used the squares as my marker ) To save time for you mark the material with a fabric pen and place the pinched 3x3 on the mark. Continue placing your fabric from the center out.

5. Line up your entire row and sew right down the center. Then fluff!!
I did not fill up the entire pillow front because I thought the two textures were interesting (or maybe lazy…whatever) Fluff the 3X3s.

6. With right sides together sew all 4 sides together leaving a 4" hole at the bottom of the pillow.

7. Turn inside out.

8. Steal from an old pillow or purchase new stuffing and stuff.

9. Stitch the hole together with a hand stitch. YOU ARE DONE!

A beautiful feminine pillow made from a man's undershirt!! Fabulous!!

Check this out.. My Pillow was featured!! Thanks you Valerie!
504 Main, Crafty Soiree, Creation Corner, Creative Juice