Welcome back to Strictly Homemade Tuesday! I hope that all the moms & soon-to-be-moms had a fabulous Mother's Day. I have to say of the 5 Mother's Days I have celebrated this one was the best!! Something about getting breakfast in bed says "Queen for the day." I hope your family made you feel like a queen...ALL moms deserve it!!
Just out of curiosity, did anyone else besides me think last week was CRAZY between Teacher Appreciation Week and Mother's Day? For people like me who like to make gifts I was SO busy getting it all together. Somehow I did it but it was a little hectic! One of these days I will NOT procrastinate...
Here is one thing I have not procrastinated...The 5th Strictly Homemade Tuesday. Yippee!

I wanted to mention some fabulous projects from last week all though they were all wonderful and I am constantly blown away by everyone's talent!
Counting Bunnies Too
made this pretend mail box. My kids would LOVE this!!!
Then She Wears Flowers made this top to grow with your little girl. As a mom to an infant girl...this is on my list!!!
If you were featured please feel free to to grab a Feature Button (on the right) and display it proudly!!
ONE LAST THING before we party!! This week I am participating in a Blog Swap with I Heart my Glue Gun!! Go check it out!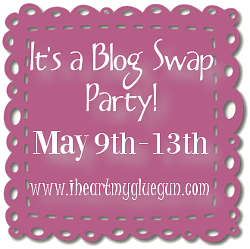 Now onto your recent projects!! I can't wait to see them all. I love all things Strictly Homemade.