I hope that you are all having a wonderful Memorial Day. I hope you are grilling out and enjoying the day off with your family and loved ones. I also hope you are taking the time to remember why we celebrate Memorial Day. This "holiday" is not without the sacrifice from others. To remember those who serve in our wonderful armed forces, I made this simple burlap flag to add to our decor for the summer.
It is pretty simple and obviously not a true representation of the American Flag, but it gets the point across. My kids have already noticed it and has given me the perfect opportunity to explain a kid version of the meaning of Memorial Day.
Also, my choice of material was BURLAP, because week one of
OMTWI
challenge is BURLAP! Click on the button below to VOTE!! You do not have to sign in or anything just click a button and vote. I can't tell you which one is mine, but I promise the American Flag posted here is not a hint as to what I made!!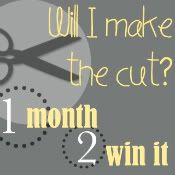 Parties I am participating are up above!!