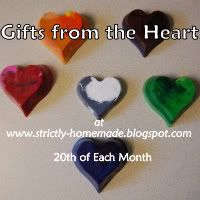 Welcome to October's Gifts From The Heart Party!! I hope you have had a wonderful month so far and are getting your Craft On preparing for Halloween. I have been super busy crafting/sewing/painting/decorating with all of this 2nd trimester energy it has been WONDERFUL!!

Now for the linking party....
This month anything goes. I am always looking for inspiration and would love to see EVERYTHING. Halloween crafts, costumes, gifts, recipes show me what you got. I have come to realize that everything we make is because we each have been given a Gift from God!! CREATIVITY!! We each have the gift of creativity how we express is dependant on our skill. This summer I read a wonderful book and participated in a Bible Study called Creative Call. I will post more about this later but it has opened my eyes!! Wonderful Book and Bible Study.
Now for the give away...
Remember my Bewitched Hand Towels. I want one of you to have a set! I love give-aways!!

Here is how to enter...
1. Link to My Party with a project (1 entry)
2. Follow me leave a comment saying you are a follower (1 entry)
3. Leave a separate comment with the best Homemade Gift you have received from someone else. (1 entry)
4. Post about my give away on your blog. Leave a separate comment. (1 entry)
**Only US entries.
Give-away Ends on Saturday Oct 23rd so I can get these in the mail on Monday Oct 25th. I want you to have this for Halloween!!
Thanks for joining my Gifts From the Heart Party. Please go and visit some other bloggers. We all love comments!! They make our day!
Have a Blessed Day!