Welcome to this months Gifts from the Heart Linky Party. I am so happy to have you join me or see what wonderful things people have made for others. This month I am doing something different. I am still having a section for homemade gifts but I also have another section for recipes. This month's recipe requests is for meals or treats you make for friends and family who just had a baby, just had surgery or just needs a little pick-me-up. These are gifts from the heart too!!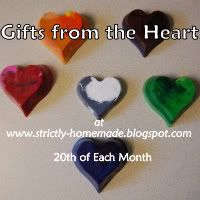 Why the change...this month I have spending some time cooking for other families and I thought about how helpful this can be to someone. It is so heart warming when you see an email list to sign-up for a meal to take to a family and it is filled up. Wow, people are so generous!! It got me thinking what do people make?? I would love to know!
I will share with you one thing I started making along with a main meal of lasagna is breakfast. I made a plate of Raisin Bran Muffins. They appeared to be a hit and I was asked to send them the recipe. The fabulous thing about this recipe is it makes a lot and stores for up to 6 weeks in the fridge. Plus, the kids love them!!
Raisin Bran Muffins
4 eggs beaten
5 cups unsifted all-purpose flour (I used wheat)
1 quart buttermilk
1 cup cooking oil
5 teaspoons baking soda
3 cups of sugar (you can cut this back to 2.5 cups)
15-ounce box of raisin bran flakes
Combine all ingredients well, and refrigerate at least overnight. Batter will keep as long as six weeks. Spoon desired amount of batter into greased muffin tins. Bake a 400 degrees for 15 to 20 minutes. Makes 5 dozen muffins.
From Jim Graham's Farm Family Cookbook- this is the best Southern Cookbook
Now for the party.
All of these creative bloggers work really hard creating and blogging, be kind and comment on the person a head of you!! Plus, grab my button and link back here. Enjoy!
This party will be open until Sept 26th.
GIFTS LINKS:
RECIPE LINKS: