Seems these days hand written notes are a thing of the past with all the technology out there people are sending emails, texts and tweets rather then personal notes. While a nice email,
facebook
hello, or blogger note is nice there is something to be said about a handwritten note. I like to think of a nice note as a little piece of you on paper. While I am not the best writer (proof is in my writing) I still like to think that when I do write a personal handwritten note the person knows it is from the heart. I know when I get a thank you note, a little note of
encouragement
, or special occasion card it makes me feel so loved! So why not give a "Gift from the Heart" and send a Handwritten note...
Today I am featuring people who think along the same lines as me but with a lot more style!!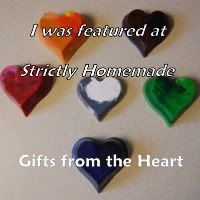 Elizabeth @
Twelvecrafts
created a
fabric envelope.
I love these. They are reusable and beyond stylish.
Colette @ My Computer is my Canvas has some fabulous
Fall Notes and tags
. She is generous enough to have these for free. Love them!!
Go check out these wonderful ladies and maybe this weekend send a handwritten note to someone you love!!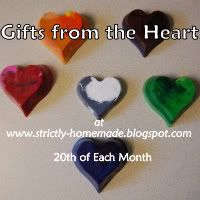 Also, remember the 20

th

is my linking party for Gifts from the Heart. Show off some homemade gifts you have made. Something new: I am also adding a recipe linking section. This month I would love for you to link up and share with us recipes you make for someone who has just had a baby, is sick, or just needs a little pick-me-up. The way to people's hearts is through their stomachs, right?
Share with us your gifts of food and handmade gifts!!