Welcome to my August Gifts from the Heart Linking Party! So happy you are here. As a 16 week pregnant woman I can tell you that I starting to feel human again and that feels GREAT! I have started sewing again and nothing fuels my soul better then sewing!
Baby stuff has been heavily on my mind. I can think of 5 good reasons....My sister's baby, my BFs baby is coming to visit, my other BF is having a baby in September, my cousin is having a baby in October, and then I am having a baby in February. We are just a regular baby factory over here.
One recent gift I have made for my sweet and beautiful niece, McKenna, is a tag blanket. Seen and done a million times but makes a million babies very happy!! This time I made it extra special by adding Satin Ribbon Trim as a tag. EXTRA SILKY.
Here is the finished tag blanket.
Really simple to make...I use fleece material on the front and back so you do not have to so turn inside out. Your raw edge of fleece will not fray. Makes it even easier to make.
Material Needed:
2 pieces of Fleece Material 15X15
Assorted Satin/ Grosgrain Ribbon
Satin Trim (not necessary but feels extra soft)

To make the satin trim work I folded one half like so...
Then folded the other side to meet in the middle. Cutting off at the bottom of the fold. Placing it between the two fabrics with about 1.5" sticking out.
Place your ribbon in any position. The ribbon I cut at 5 inched folded over and secured with a pin.
Sew around all the edges and you are done.
Of course, one part of a gift is the recipient needs to RECEIVE the gift. Oops! I was planning on giving this to McKenna in early August but due to family sickness we were unable to go. Now I just need to get to the mail box. Sister: Now you know what to expect in the mail!! Love ya!
Now for you to show us some of your homemade gifts. I love homemade gifts and I am always looking for inspiration. This is a place where we can show off things you have made for others. It can range from gifts, to special meals, to stories of kindness from others. Inspire us!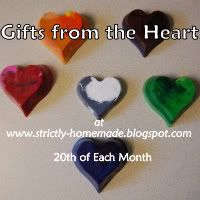 This will be open for 7 days!!