I personally LOVE reinventing clothes for my daughter, son and even me for next to nothing. I have noticed on blogland there is a trend amongst sewing bloggers to re-purpose manufactured clothes as well. All it takes is a little creativity and time!! The possibilities are endless.
This week I want to share with you some other bloggers who are going above and beyond re-purposing clothes for their loved ones. I can't think of a better gift from to heart! Plus, it is also a gift to your pocketbook-
bonus
!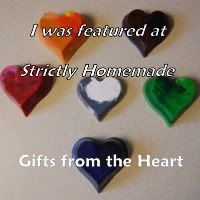 Kalleen from
At Second Street
made this adorable dress from a skirt for her daughter. Brilliant. She has also reinvented lots of other items too. She is quoted as saying "I can't tell you how easy it is to re-purpose clothes. I don't think I'll ever make anything from scratch again. I especially love not having to hem." My thoughts EXACTLY!
Kristin from The Meldrim Family Post
Who Needs to Buy Clothes Anymore
made this adorable dress for her daughter from a girl's tee. Then embellished it with a flower. What a cutie of a model too!
Speaking of easy on the pocketbooks, my blogger friend Melissa from
Those Northern Skies
made a purse out of an old sweater. She also makes her daughters'
clothes out of sheets
, and purses out of jeans. Her re-purposing skills are endless!!
Here are some items I have made over the past few months.
- A
dress turned into a skirt
. that is over 50 years old from my grandmother.
- A dress from my mother's GW bag into a
dress for my daughter
Actually I have done lots more I just haven't found the time to post about them...but you get the point.
Finally, my sister introduced me to website called
A New Dress a Day
. It is a woman who is making 365 outfits in 365 days for $365. She is pretty inventive on what she can make out of some hideous clothes.
I hope these creative women make you look at clothes a little differently...there can be a re-purpose for almost everything!! With a little time and patience you or a loved one can have a one-of-a-kind homemade outfit!!

REMINDER: tomorrow is my linking party Gifts From The Heart! Any homemade gifts you have made, food you have shared with friends and family, or stories of kindness from others, all belong here. I would love for you to join me! It will be open for 5 days.