I have decided to do something new. Each Friday I am going to showcase other Homemade Gifts or Homemade Items on a particular subject. Therefore, you are getting lots of ideas rather then stuff I am coming up with. There are so many amazing creative people out there and their ideas need to be shared!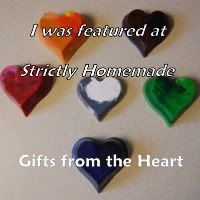 This first Feature Friday is on Back-to-School. Many of you are seasoned moms when it come to preparing for back to school but for me this is a first. Right now in our home we are preparing for my sweet daughter, Lawson, to go to Kindergarten and my 2 year old son, Wesley, is for pre-school. It is an exciting time in our home.
Here are some of the amazing ideas I have come across that are all Strictly-Homemade Gifts for people they love.
Tricia from
Leafy Treetop Spot
has made and shared a Morning Routine Chart for her sister. It is perfect for pre-schoolers and kindergartners who are getting adjusted to a new (early) morning routine.
While we are on the subject of organization
Southern Girl Creations
made a Mod Podge Clipboard and notebook. SO CUTE! This would be great for mom, kid, or teacher gift. Love it!
Then
Kandra from My Life
made...get this MADE her daughter her book bag this year. It is beautiful. I want one to haul all of my MOPS supplies this year. What an awesome gift to her daughter. I do hope she is prepared to make her friends bags too!
To go in your book bag Heather from
Me Making Do
made a
Binder Pencil Pouch
. This is one I am going to try. This is super cute and looks super easy too. What a great gift idea too! Heather has a whole series right now on back-to-school stuff.
Last, but not least. One thing I have been thinking long and hard about is giving the kids a few more responsibilities around the house. The new school year also means new responsibility. Am I right? AmyLenn from The Lennertz Six has come up with a
Chore Chart
that is brilliant. What a great way to start the school year off right!!
I hope you have enjoyed these excellent ideas to help kick off Back-to-School time. Not everything has to be store bought you can made them for the people you love and it will mean that much more!
Hope you enjoyed and go visit these talented women.
Grab a button if you been featured and be sure to join me on the 20th of each month to share your Homemade Gifts from the Heart!
Happy Friday!!