Welcome to my Gifts from the Heart- May. I am not sure about you but this month has been gift central over here. Whether the gift has been for a
birthday
,
teacher appreciation week
,
Mother's Day
or just saying thank you-I have been BUSY!!!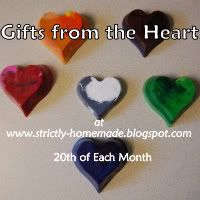 I wanted to show a few gifts I have completed. I am showing you all this for ideas!!
For a last thank you gift to teachers, assistants, and staff I found this at
Beneath My Heart
. It is a bag full of mint candy and a nice poem. Everyone loved it. It cost me a total of $9.00 for 6 bags. If you are looking for last minute teacher gifts for the end of the year...this is the ticket.
Then for thank you gifts for all the hard work at MOPS I gave some of the leaders rosette pins.
Gifts do not have to be homemade they can be your time. A few weeks ago my friend asked me to show her how to sew and help her make throw pillows. 2 hours later she was beginning to be confident sewer (so much that she wants to buy a sewing machine) and she has 5 new throw pillows. We also had so much fun together.
She happens to be my MOPS Leader too, so for a thank you gift I gave her a Cupcake Pin Cushion. I saw this idea at
Easy Peasy Grandma
. Hopefully, she will learn to love sewing and we can have sewing play dates!! Doesn't that sound fun???
Finally, a gift can be trying to help a neighbor with really bad taste...seriously. My sweet neighbor's husband painted his rusty old mailbox "Chrome" the other day...and called the job complete. It looked awful!! We don't have a HOA, but that was unacceptable!!
The wife asked me to fix it. The husband was not offended that I painted over his spaceship looking mailbox. He actually really likes it!! They promise me they are going to paint the post but we shall see.
That was a long list, sorry, but I told you I have been busy.
Now I would love to see what you have done this month. Show me your homemade gifts, or as I showed above it can be helping a neighbor or taking time to teach a friend a new craft. I love giving homemade gifts and my goal here is to inspire others to give homemade gifts as well.
Link up today and show us some of your homemade gifts!!
Also, if you link you have another entry in my
clutch purse giveaway.